Players hotel
Please verify that you have somewhere to stay as soon as possible. The Swedish west coast is a very popular tourist attraction during our summer and the same week as our event, the world's largest soccer tournament — Gothia Cup — is played in Gothenburg, they have more than 1,700 teams from 80 nations so please book your room (and travels) as soon as you can. In worst case scenario, you can always cancel your room booking at a later stage.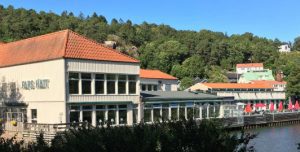 "Fars hatt" (means father's hat in Swedish) and is the designated player hotel, they have 124 rooms and more than 240 beds. It's located 12 km from the course, multiple languages are available on their web page →
The hotel has a pool, restaurant and like most modern hotels offers free wifi.
The hotel will adjust their weekend breakfast hours to our wishes (so no breakfast bags) and we've received a very good discount. You must book either by email or phone to receive the discount:
Use the booking code OPEN-2018 to receive the following prices:
| | |
| --- | --- |
| Single room | 550 SEK per night |
| Double room | 750 SEK per night |
| Room for three | 950 SEK per night |
| Room for four | 1150 SEK per night |
Divide the SEK with 10 to give you a good estimate on the prices in Euro/USD.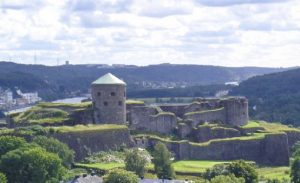 For those of you that want to see something more than disc golf courses you'll find Bohus Fortress a two minute walk from the player's hotel. Bohus Fortress was built more than 700 years ago.
Busses can take you to Ale Torg which almost all players will pass on their way to the course.
We hope to create a forum where players that lack transportation can sign up for a ride to the courses.