Every year hundreds of discs are lost on our courses and most of them are returned to us and most of these discs are returned to their owners.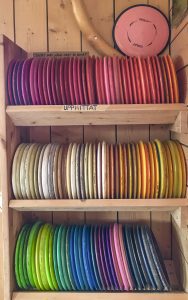 When we receive a lost disc we always put in on the shelf directly to the left inside the shop's front door.
Every week we receive questions regarding if a specific discs has been returned to us but we're very sorry to say that we won't search for specific discs or return discs for the postage cost. The service we provide is that we store your discs for at least one year (discs lost 2017 will be available entire 2018). The shelf only have rooms for the current year's disc so ask us in the shop if you lost your disc last year.
Instead of asking us for specific discs we appreciate if you instead ask your friends to check our lost n' found shelf next time they visit (if you won't visit yourself) instead of sending a request to us. To look for a specific disc by request always starts a dialogue regarding how the disc can be returned and we don't have the time for this dialogue.
If someone else wants to go through the discs, contact the owners, and mail the disc you're of course more than welcome to do this, but there are to many practical obstacles for us to do this. Please believe us when we say that it's not possible for us to do this, but there is little reason for us to list all obstacles here.
We do however absolutely understand how it feels to lose a precious disc (we're disc golfers as well) and we do save all returned discs for more than one year in the shop. During this year you (or a visiting friend) can look through the discs when the shop is open, and get your lost discs back.
If the disc isn't fetched within one year we claim them. Suitable discs (putters and midrange) will be used to spread the sport. Less suitable discs (drivers) we'll find another use for.