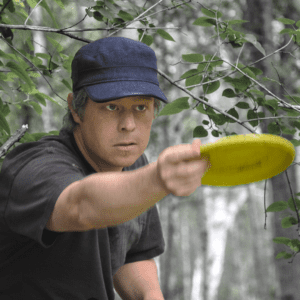 The work with Ale Disc Golf Center started in the spring of 2013. Our vision is to run one of the best disc golf facilities in the world.
The courses are pay-to-play courses which are required to finance continuous maintenance and development of the courses and the facility. Ale Disc Golf Center is a privately owned company, we don't receive contributions or government grants of any kind, and our existence is entirely dependent on what our visitors pay.
We offer two complete 18 holes courses and a shorter 9 hole course. The white course has more open and longer holes and the yellow course consists of more tricky holes in a tighter forest environment.
The blue course has even shorter holes and is intended for beginners and experienced players who want to practice their short game and putting. We also offer a pro shop, toilets, water, putting area and a driving range.
The development of the courses is constantly progressing and the information is continuously posted on our Facebook page.
Completed the blue course which now has 9 holes.

Built a bigger parking lot and improved the existing one.
The first event on yellow course with pro tee pads.

First event with a big audience: at least 340 cars with spectators watched the final round.
First real international event when the final event on the European Tour (Euro Pro Tour) was played here. A lot of big names played here.
The first event where all players competed on both the yellow and the white course.
First three-day competition.
Opened the blue course.
First event with a foreign organizer: Norway played one of their national tour events here.

The white course opened with permanent hole layouts.
Some holes will change but all holes now have permanent tee-pads, fairways, and greens.
Our first PDGA A-tier competition.
Opened driving range.
Set opening hours in the pro shop.

The white course opened.
Our first PDGA B-tier competition.
Our first multi-day competition.
The first competition that used both courses.
Renovation of our coffee cabin (fikastugan in Swedish).

The yellow course opened.
First PDGA sanctioned competition on a permanent course (the yellow course).
Our week tour Aletouren started.

Opened the pro shop.
First PDGA sanctioned competition (C-tier), it was played on a temporary course containing holes from both the white and yellow course.
Renovation of our barn.

Founded the 28th of March.
Planning and started developing disc golf courses.
Renovation of machine hall.
Demolition of the old residential house.
Started building the pro shop.